While I have overly fallen in love with the rounded silhouette sunglasses this season, the variations for the classic look are endless. Following are my top picks for this timeless shape.
1. Pellucid Shades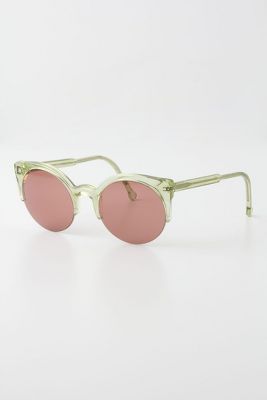 How Much: $158
Frame Colors: Green / Pink
2. The Evelyn
How Much: $95-150
Colors: Marine Slate / Whiskey Tortoise
Linda Farrow for The Row
How Much: $363
Colors: Brown
Ray-Ban Craft
How Much: $199
Colors: Crystal Brown
If you're like me, however, and cannot quite afford these price tags, there is still hope. Free People and ASOS have some great options all under $30:
Like reading a book:
Now that I've blogged about all of these lovely frames, I definitely need to buy myself a pair ASAP.